- Place and role of information professionals in major French companies

< Table of content >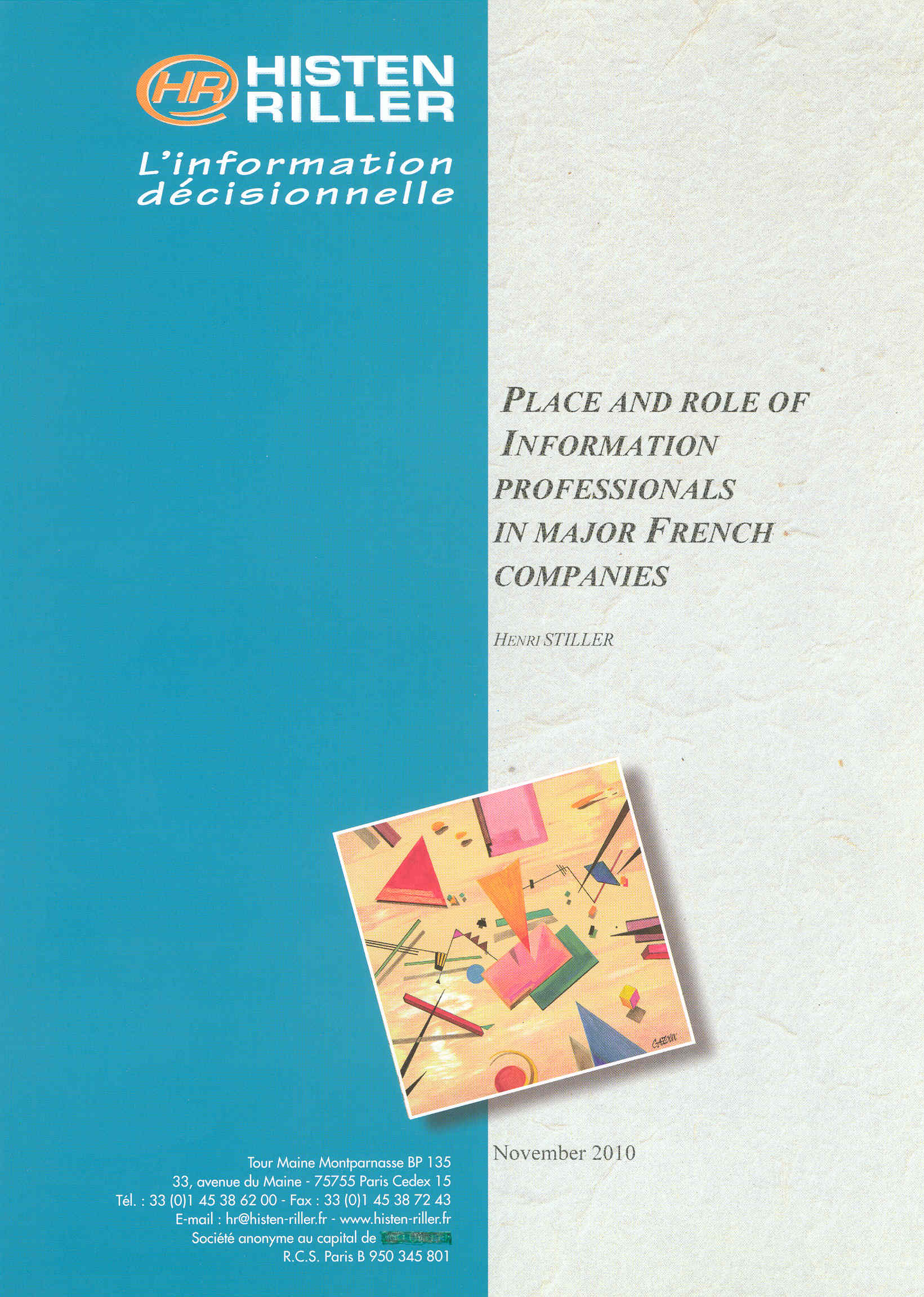 * Publication: November 2010
* Price (pdf): 300 €
b. tax
(VAT 19,6% for France-based organisations/individuals)
* Price (hardcopy): 350 €
b. tax
(VAT 19,6% for France-based organisations/individuals)
< ORDER FORM (to be sent) >
< ONLINE ORDER >
After the 1995 and 2001 issues, Histen Riller has achieved a new survey which aim is to understand and grasp the many aspects of information professions.
It also suggest answers to the fundamental question - how do companies fulfil their information needs.

Although the survey reveals the situation in France, it can be easily extrapolated on a more general scale, as all companies of the surveyed panel are multinational companies.
THE SURVEY ADDRESSES THE FOLLOWING POINTS:
* state of the art – status in the company of the tasks related to information professionals -> types of organisations, size, missions, products & services, staff training and qualifications;

* role of information professionals in the corporate information monitoring and competitive intelligence processes;

* role of information professionals in the implementation of information and communication technologies (ICT) within companies: knowledge management, Internet technologies (intranet & Internet);

* impact of ICT implementation on tasks carried out by information professionals; more specifically, what changes are introduced by the social web (web 2.0) on these tasks, on their users, and on the relationships between information professionals and their users;

* how the current economic crisis affects these tasks and professions, and what lessons can be learned;

* prospects: challenges, threats and opportunities.
The sample of the survey is composed of the
two hundred largest French companies
.
As in the previous version, the study incorporates
lessons learned from recent studies
on related topics.